INTRODUCTION
With the looming thought of a recession, nonprofits are at high risk of financial struggles. Now is the time to prepare and organize a robust strategy to make it through this challenging time. As donations and funding from government sources may decline, there will be an increased demand for services. According to The Chronicle of Philanthropy: In the first half of 2022, donor numbers fell by 7% compared to the first half of 2021. This is because there was a decline in the number of small gift donors between the months January to July. With a recession upon us, small gift donors are more likely to temporarily lapse. This makes it challenging for nonprofits to sustain their operations and continue to serve their beneficiaries effectively. However, with careful planning, effective communication, and good stewardship, nonprofit leaders can mitigate the effects of a recession. In this article, we will explore some strategies that can help your nonprofit weather the storm and emerge stronger in the long run.
Article Highlights:

How Will a Recession Affect Your Nonprofit?

Make a Plan

Be Transparent

Make stewardship a top priority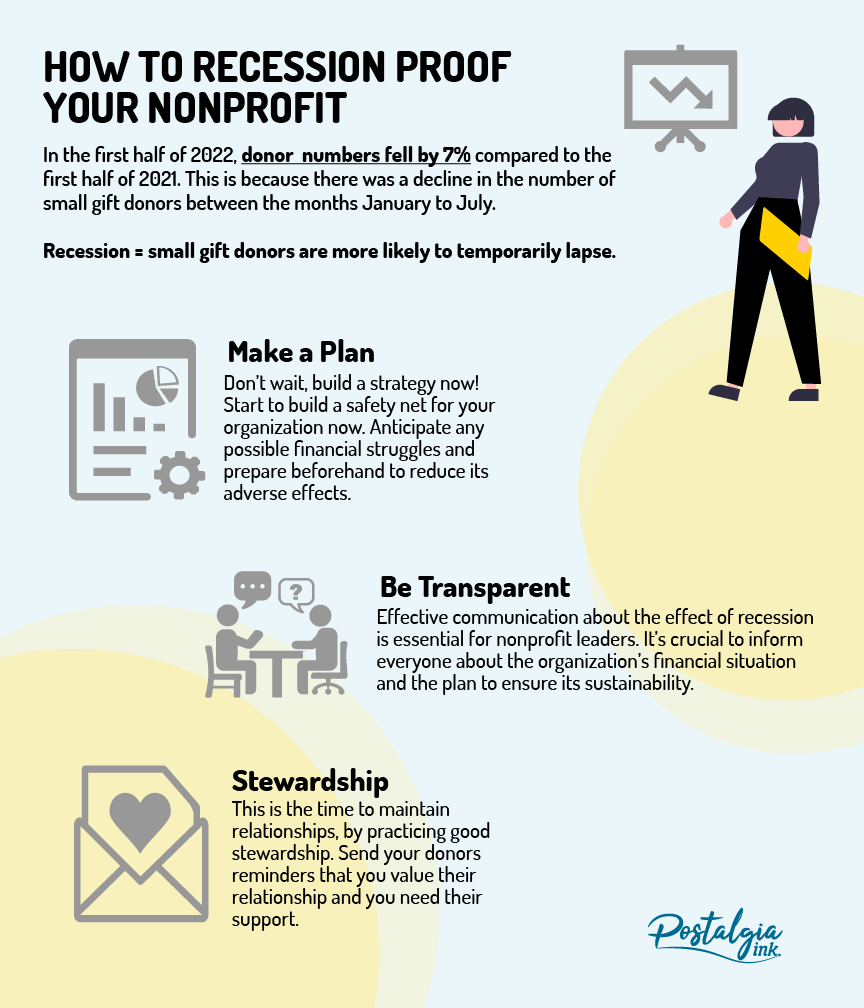 How Will a Recession Affect Your Nonprofit?
Recession affects internal and external aspects of your nonprofit. As individuals and businesses may have less disposable income, you will see a decline in donation amounts and experience lower retention rates. Government funding is likely to decrease due to budget cuts. There will be an Increased demand for services, as recessions often result in higher levels of poverty, unemployment, and other economic challenges, which can lead to an increased demand for services from nonprofit organizations. Nonprofits may need to stretch their resources to meet this increased demand. Your organization may find fundraising more difficult as raising more funds will be less successful especially when trying to attract new donors. This inevitably leads to damaging your reputation and more unfortunately affects your capacity to help the cause.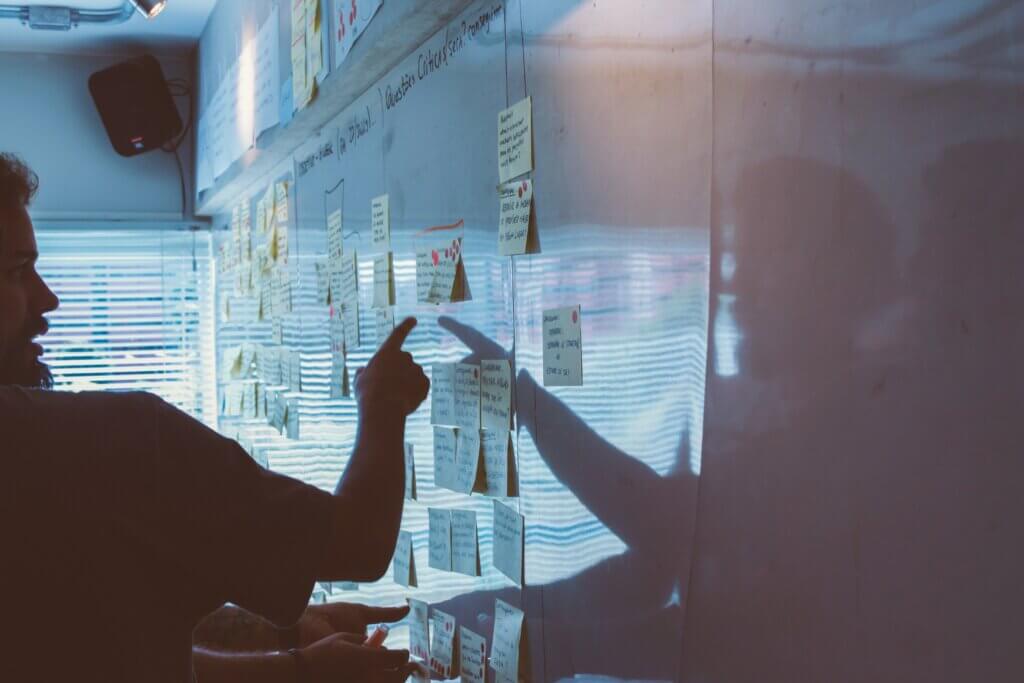 Make a Plan
Don't wait until you start to feel the effects of recession, be prepared and start planning for a potential economic downturn. Start to build a safety net for your organization now. Anticipate any possible financial struggles and prepare beforehand to reduce its adverse effects. Rather than waiting, take action to improve your organization's programs and initiatives. Schedule regular meetings with your development or membership team, even if they are brief, to brainstorm ideas for strengthening donor relationships and communication. These meetings can lead to effective plans that can make a significant difference. Take into account how this will change your future and create a long-term plan. Imagine the desired outcomes for your organization in the next five years. Record the milestones you wish to reach, the accomplishments you want to achieve, and the prerequisites necessary to accomplish them. Equally significant is to ensure that you convey your organization's long-term vision to your donor base to sustain their support, even if they have changed their capacity to donate temporarily.
Be Transparent
Effective communication about the effect of recession is essential for nonprofit leaders, not only with lower-level management and staff but with all stakeholders, including the board, donors, and volunteers. It's crucial to inform everyone about the organization's financial situation and the plan to ensure its sustainability. By keeping everyone informed and involved, your nonprofit can benefit from the collective input and support of the entire team.
Be sure to communicate clearly and transparently with your community members to maintain trust, manage expectations, and keep their supporters engaged. It is important to highlight that now is the time that you need your donors more than ever and gently remind them that the economic turmoil is tough for everyone but even tougher for those in need. Explain that there is an ongoing need for support from their community members, highlighting the impact that donations and volunteerism can have during a difficult economic period. Communicate this information in an informative manner and provide specific details on how the recession affects your organization.
Provide your community with the assurance that you have a plan of action for the recession, and show them that these hard times are just a speed bump in an otherwise hopeful future. Avoid using language that is asking for "bailouts" or is seemingly a "cry for help".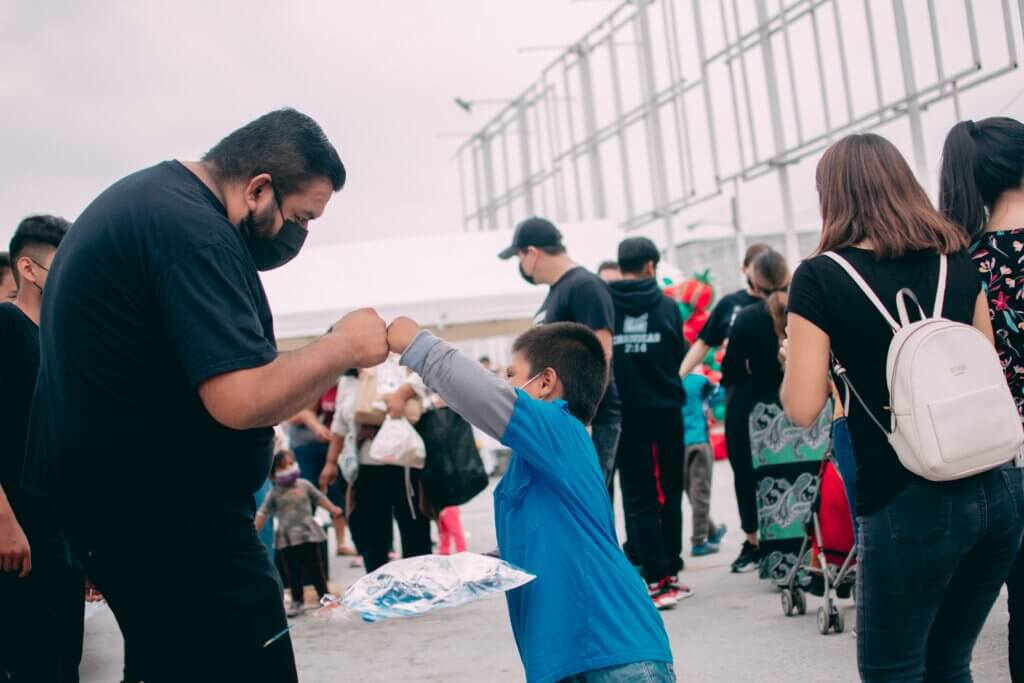 Make stewardship a top priority 
This is the time to maintain relationships, by practicing good stewardship. Send your donors reminders that you value their relationship and you need their support. Amid a recession, donors tend to reduce the number of nonprofits they support financially. However, reaching out to them directly at this time may increase the likelihood of your organization becoming one of the nonprofits they continue to support in the long run. Therefore, it's crucial to nurture and maintain a positive relationship with donors now to ensure their continued support in the future. By cultivating and stewarding donors today, you can improve the chances of retaining them as committed supporters. During periods of economic instability, there can be the mistake of directing a majority of resources towards gaining new donors, therefore neglecting current customer or donor base. Ensure that your recession plan aims to the retention of existing donors as that is more likely to see results in maintaining funding.
Your stewardship efforts should have these key priorities:

Showing gratitude by saying thank you by sending a handwritten thank you

Share impact and success stories

Stay in contact with donors

Acknowledge any hard decisions your organization has had to make

Maintain authenticity and transparency
WRAP IT UP
Recessions can have an impact on both the internal and external aspects of nonprofit organizations. Donations and retention rates may decline, and government funding may decrease. Increased demand for services can stretch an organization's resources. To prepare for a potential economic downturn, nonprofits need to start planning now and improve their programs and initiatives, including strengthening donor relationships and communication. Clear and transparent communication is essential to maintain trust with all stakeholders. Emphasize the ongoing need for support, highlighting the impact of donations and volunteerism during a difficult economic period. Maintaining relationships and practicing good stewardship is crucial to retaining donors, to ensure the retention of existing donors as a strategy to maintain funding.
Want to level up your direct mail? Contact us.