Navigating the Digital Era: Reimagining Direct Mail
By: EmMa Matern
July 20, 2023
Article Highlights

Leveraging technology to enhance direct mail campaigns

Personalization and targeting

Data is not static

Personalized mail pieces stand out
Introduction
Direct mail cuts through digital fatigue by offering a tangible experience that stands out amidst the overwhelming influx of messages. According to Compu-Mail.com, the average American household receives two direct mail pieces daily, while emails can flood in by the dozen. Due to their comparative scarcity, approximately 77% of Americans eagerly anticipate opening direct mail. Despite the prevalence of digital communication, the percentage of physical mail read today remains surprisingly high. Numerous statistics and studies have consistently demonstrated that direct mail continues to be an effective marketing tool that stands out in a tech-forward world.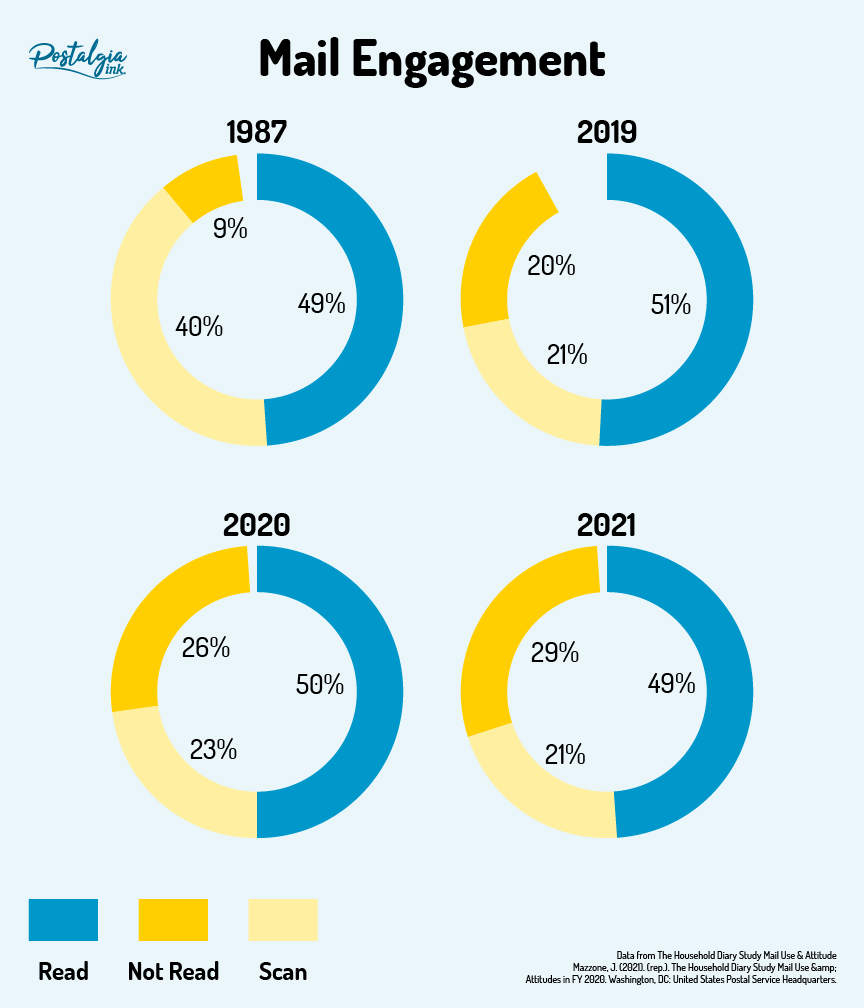 Source: USPS Household Diary Study 2021

Leveraging technology to enhance direct mail campaigns
Direct mail is one of the oldest forms of communication still around today, recent developments allow the incorporation of digital elements into mail pieces. Leveraging technology has become increasingly vital in enhancing direct mail campaigns. By integrating interactive experiences into traditional mail, marketers are able to captivate their audience in new and exciting ways. One effective method is the utilization of QR codes, which help bridge the gap between physical and digital realms. These codes provide a convenient and instant connection for users, allowing them to access content, exclusive offers, or website URLs with just a simple scan. The scans can be tracked by the marketer to gauge real time success of the campaign. By integrating QR codes into mail pieces, brands can deliver a seamless and cohesive experience that engages recipients and enhances their overall interaction with the marketing material.

Personalization and targeting
Data-driven segmentation is a powerful strategy that enables businesses to effectively target their audience with tailored messaging. By leveraging customer data and insights, companies can divide their customer base into smaller, more specific groups. These segments can be based on various factors such as demographics, preferences, purchase history, or behavior patterns. By understanding the unique characteristics and needs of each segment, businesses can create segmented direct mail campaigns that speak directly to the interests and motivations of their recipients.
Postalgia specializes in Variable Data Printing (VDP). This advanced technology allows for the customization of individual elements within a direct mail piece. For example, names, addresses, or offers can be personalized to each recipient. This level of customization creates a highly personalized and targeted experience for the recipient, making them feel valued and understood. By incorporating VDP into their direct mail campaigns, businesses can increase the relevance and impact of their messages, ultimately driving higher engagement and response rates.
The beauty of data-driven segmentation and VDP is that they work together seamlessly. By combining the insights gained from segmenting their audience with the customization capabilities of VDP, businesses can create direct mail pieces that deliver the right message to the right person at the right time. Whether it's addressing recipients by name, showcasing products or offers that align with their preferences, the level of personalization achieved enhances the overall effectiveness of the direct mail campaign.

Data is not static
To ensure the success of data-driven marketing campaigns, it is crucial for businesses to regularly refresh and clean their data. Outdated or inaccurate information can lead to ineffective targeting and personalization, diminishing the impact of direct mail efforts. By conducting regular data audits and utilizing tools that automate the data cleansing process, businesses can maintain a clean and reliable database, improving the quality of their direct mail campaigns.
In addition to data cleansing, it is essential to continuously collect and analyze new data to gain fresh insights into customer behavior and preferences. By leveraging tools and technologies that capture and analyze customer data, businesses can stay up-to-date with evolving customer needs and preferences. Incorporating real-time data sources, such as website analytics or CRM systems, enables businesses to gather valuable information on customer interactions and transactions.
To keep customer data accurate and up-to-date, it is important to actively engage customers in the data collection process. Businesses can encourage customers to provide updated information by offering opt-in forms or account profiles. By rewarding incentives or benefits for customers who update their information, businesses can incentivize customers to share accurate and relevant data. This approach not only helps in maintaining a clean and updated customer database but also fosters a sense of transparency and trust between the business and its customers.
Using automated data integration processes is crucial for syncing data across different systems. By integrating data from various sources, such as CRM systems, e-commerce platforms, or social media channels, businesses can have a holistic view of customer information. This integrated data enables businesses to create comprehensive customer profiles and ensures consistency across different touchpoints. Automation streamlines the data integration process, reducing manual errors and enabling businesses to deliver cohesive and personalized direct mail campaigns.

Personalized mail pieces stand out
Direct mail has a unique ability to make mail pieces more relevant and meaningful, leading to higher response rates and establishing an emotional connection with recipients. According to the article "Direct Marketing Statistics for 2022" by  Compu-Mail.com, the response rate to direct mail can reach as high as 37%. One of the reasons for this is that people perceive a physical piece of mail as more "real" compared to the digital ones that flood their inboxes. The tangible nature of direct mail captures attention and engages multiple senses, creating a memorable and impactful experience for recipients.
Direct mail has been shown to generate higher response rates compared to other marketing channels. In the data mentioned above by  Compu-Mail.com, mail pieces have an open rate of 90% (in contrast to the average email open rate of 23%), direct mail ensures that the message reaches the intended recipient. This high open rate provides an opportunity for businesses to make a strong impression and convey their message effectively. Direct mail marketing allows for customization and personalization, such as incorporating handwritten elements. Handwritten elements, such as handwritten addresses or notes, add a personal touch that makes recipients feel valued and appreciated. This attention to detail significantly increases the chances of the mail being opened and read.
Beyond higher response rates, direct mail also enhances the perception of a brand as customer-centric. By investing in physical mail pieces that are tailored to the recipient's preferences and needs, businesses demonstrate a commitment to delivering personalized experiences. This customer-centric approach fosters a positive perception of the brand and strengthens the emotional connection between the business and its customers.
Conclusion
In the ever-evolving landscape of marketing, where technology and data reign supreme, direct mail stands as a timeless reminder of the power of human connection. It is a tangible testament to the impact that a carefully crafted message can have on an individual. Leveraging technology and personalization techniques has become crucial for enhancing the effectiveness of direct mail campaigns. By incorporating digital elements like QR codes, marketers can create interactive experiences that bridge the gap between physical and digital realms, engaging recipients in new and exciting ways. Data-driven segmentation and Variable Data Printing (VDP) enable businesses to target their audience with tailored messaging, creating highly personalized and impactful mail pieces. Regular data maintenance and collection ensure accuracy and relevance, while automated integration processes streamline data management. Personalized mail pieces that stand out from digital clutter generate higher response rates and establish emotional connections with recipients. By investing in customer-centric direct mail, businesses strengthen their brand perception and foster stronger relationships with their customers. With the right combination of technology, personalization, and data-driven strategies, your campaigns can achieve enhanced effectiveness and drive successful outcomes.
Postalgia is a forward thinking, full range mail service provider. We employ the latest printing technology to turn your campaign vision into reality. We make the process as easy as possible for you by designing your pieces to include QR codes, implement variable data printing, cleaning up your data, and we specialize in handwritten direct mail, proven to increase open rates and goodwill maximizing the effectiveness of current and future campaigns. Reach out today to create mail that gets opened and makes an impact.
Want to level up your direct mail? Contact us.