How Fundraisers Are Tripling Their Campaign Performance
By: EmMa Matern
June 22, 2023
Article Highlights

Targeted Mailing Lists

Compelling Storytelling and Effective Communication

Mail Piece Design

Omni-Channel Direct Mail Campaigns

Follow-up strategies
Introduction
Are you ready to revolutionize your fundraising efforts? Discover the power of donor segmentation, personalized messaging, and captivating storytelling to unlock unparalleled success in your campaigns. Engage donors, maximize impact, and foster long-term relationships for your organization. In fact, a recent direct mail handwritten fundraising campaign we did for NYU "beat the control 3 to 1." And yet another recent campaign done for Combined Jewish Philanthropies of Greater Boston found that "donors who received a personal note gave nearly 20% more than those who did not!". Don't miss out on this opportunity to amplify your campaign reach and maximize your impact!

Targeted mailing lists
At Postalgia, we recognize that donor segmentation is the key to successful fundraising campaigns. By tailoring your messages to resonate with each demographic, you can create a deep and meaningful connection with your supporters. Every communication should make your donors feel valued and appreciated. That's why it is important to incorporate donor-specific information into your handwritten letters. Whether it's mentioning a previous donation, acknowledging their specific interests, or simply using their name, a personalized approach creates a powerful bond between your organization and its supporters.
It is important to align donation requests with donor preferences and giving capacity. Ensure your team crafts customized donation appeals that are not only compelling but also considerate of each donor's unique circumstances. Analyze your donors giving histories and patterns to ensure that your requests are tailored to maximize engagement and increase the likelihood of a positive response.
REMEMBER THE YOUNG DONORS!
Developing effective follow-up strategies is crucial when cultivating and maintaining relationships with donors, especially when targeting younger demographics. It is vital not to overlook the potential of younger donors and actively engage them in philanthropic efforts. Encouraging smaller donations and active participation in campaigns, while also providing volunteer opportunities, creates a sense of ownership and pride in their contributions! Incorporating digital elements such as QR codes, online giving portals, and having a social media presence, can make it convenient and accessible for younger donors to contribute and engage with your cause. These strategies enable fundraisers to build lasting connections with younger supporters, ensuring their long-term involvement in fundraising efforts.

Compelling Storytelling and Effective Communication
One powerful approach is to create an emotional connection by sharing genuine stories  that evoke emotions and resonate with donors. By sharing narratives that tug at heartstrings, you can create a sense of empathy and inspire action. Whether it's through personal testimonials, heartfelt anecdotes, or compelling case studies, these stories should showcase the impact of the cause in a way that resonates with donors' values and experiences.
When it comes to effective communication, authenticity and transparency are paramount. Fundraisers should share real-life experiences and factual information to demonstrate their commitment to transparency. By providing donors with clear and honest insights into the organization's work, fundraisers can establish credibility and foster trust. Donors want to know that their contributions are making a difference, so it is crucial to communicate the real impact of their support. Presenting clear goals and outcomes is crucial for fundraisers to engage donors effectively. Sharing measurable objectives and progress toward those goals allows donors to understand the tangible difference their contributions can make. When donors see the direct connection between their support and the outcomes they care about, they are more motivated to invest in the cause.
Including personal anecdotes in storytelling helps fundraisers create relatable connections with donors. By sharing stories of individuals connected to the cause, whether they are beneficiaries, volunteers, or donors themselves, fundraisers can humanize the impact of their work. These relatable stories bring the cause to life and allow donors to connect on a deeper level. When donors can see the real faces and experiences behind the statistics, they are more likely to feel a personal attachment to the cause and be inspired to contribute.
Fundraisers should actively seek feedback from donors and share donor stories and testimonials. By inviting donors to share their experiences and perspectives, fundraisers show that their opinions matter. Sharing donor testimonials not only provides social proof but also allows donors to become advocates for the cause. These stories and feedback strengthen the relationship between fundraisers and supporters, fostering a sense of community and shared commitment.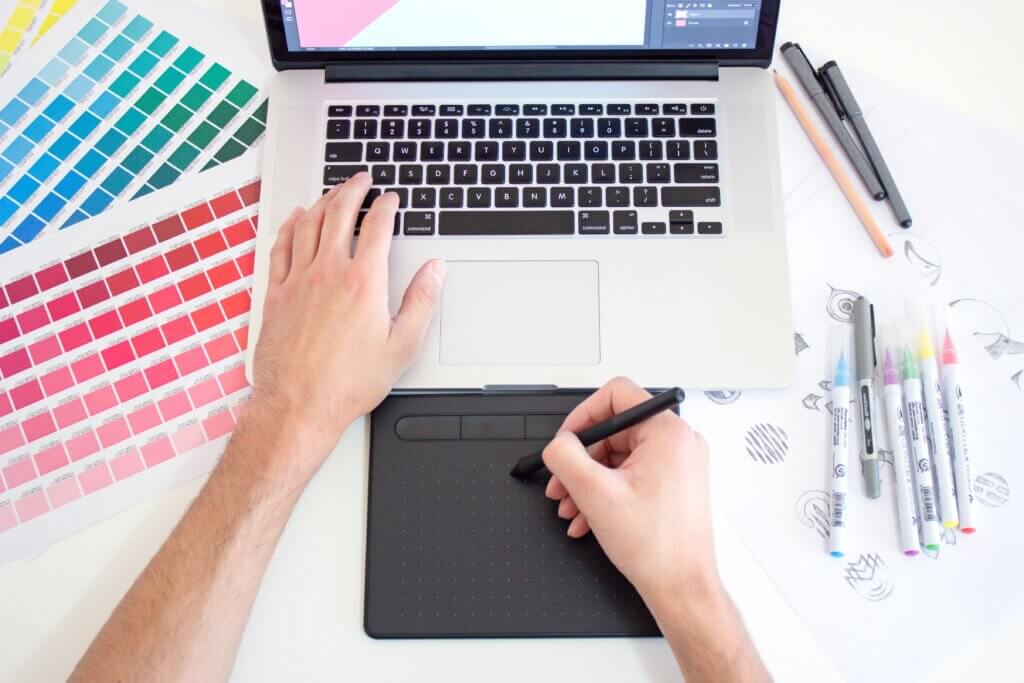 Mail Piece Design
When it comes to mail-piece design, fundraisers have the opportunity to create impactful and compelling materials that resonate with donors. To capture your audience's attention, it is crucial to incorporate visuals that stand out. Whether it's vibrant colors, striking images, or unique illustrations, the design should immediately catch the eye and pique the recipient's curiosity. Creating visually captivating designs, increases the chance of mail pieces that get opened and read.
Pairing attention-grabbing visuals with compelling headlines is a winning combination. The headline should be engaging and thought-provoking, motivating the recipient to delve further into the mail piece. It should create intrigue and clearly communicate the purpose of the campaign.
Clear and concise messaging is essential to ensure that the campaign's purpose and call to action are communicated effectively. Fundraisers should aim to convey the core message in a concise manner, using straightforward and impactful language. By clearly articulating the purpose, fundraisers can ensure that recipients understand the campaign's mission and know how they can contribute.
Maintaining a consistent visual identity throughout your mail-piece is important for brand recognition and cohesion. Fundraisers should incorporate consistent branding elements such as colors, fonts, and logos in their mail piece designs. Consistency creates a sense of professionalism and trust, reinforcing the organization's identity and making it easily recognizable to donors.
To make the campaign stand out, fundraisers should incorporate unique design elements that differentiate their mail pieces from others. Creativity and innovation can leave a lasting impression. Whether it's using unconventional layouts, interactive elements, or incorporating unexpected materials, unique design elements can make the campaign memorable and increase donor engagement.
Visual hierarchy plays a crucial role in guiding the recipient's attention to key information. Always consider design principles such as size, color, and placement to emphasize the most important messages and calls to action. By creating a clear visual hierarchy, fundraisers ensure that recipients can easily grasp the main points of the mail piece and understand the desired actions.
Readability is essential for effective mail-piece design. Always ensure that the design is easy to read and understand at a glance. Using legible fonts, appropriate font sizes, and clear formatting will enhance readability. By making the content easily accessible, fundraisers increase the likelihood of recipients engaging with the mail piece and taking action.
Discover the power of donor segmentation, personalized messaging, and captivating storytelling to unlock unparalleled success in your campaigns.

Omni-Channel Direct Mail Campaigns
It is essential to embrace technological advancements rather than resist them. We believe that integrating digital components into your mail pieces can revolutionize your fundraising efforts. By incorporating digital elements into your direct mail, such as scannable QR codes, it provides seamless access to online platforms and makes engagement effortless.
One key aspect of omni-channel campaigns is data integration. Fundraisers can synchronize data from direct mail and digital channels to gain a comprehensive view of donor engagement. By leveraging the data collected from multiple channels, fundraisers can gain valuable insights into donor preferences, behaviours, and interactions. This data-driven approach enables fundraisers to tailor their messaging and strategies more effectively.
Personalized follow-ups are another significant benefit of omni-channel direct mail campaigns. With digital channels, fundraisers can deliver personalized messages based on donor actions. By tracking donor engagements, fundraisers can segment their donors and send targeted follow-up messages that resonate with individual interests and motivations. This personalization enhances the donor experience and strengthens the relationship between organization and donor.
Incorporating scannable QR codes in direct mail pieces is a valuable technique in omni-channel campaigns. QR codes provide a convenient and quick way for donors to access online platforms. By scanning the code with their smartphones, donors can be directed to dedicated landing pages, online donation forms, or specific campaign websites. This integration of offline and online channels simplifies the donor's journey and encourages them to engage further with the cause.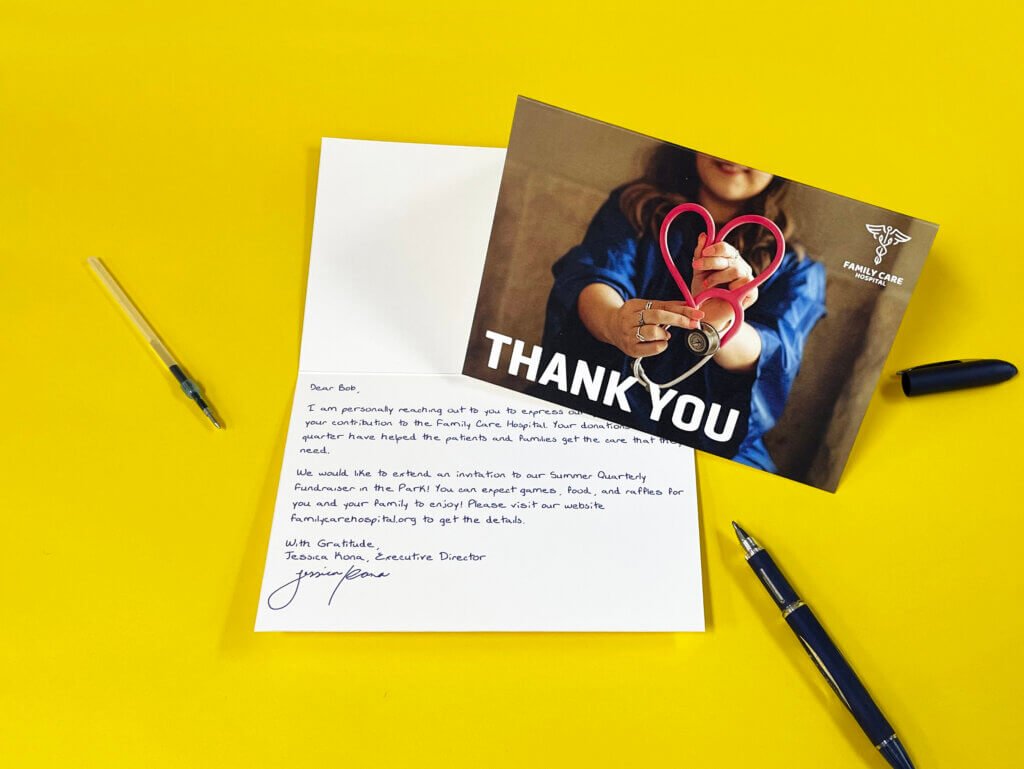 Follow-up strategies
Follow-up strategies are crucial for fundraisers to maintain and strengthen relationships with their donors. Expressing gratitude is a fundamental aspect of effective follow-up. Personalized thank-you letters should be sent to donors, acknowledging their contributions and expressing sincere appreciation for their support. By personalizing these letters, fundraisers can demonstrate the individual impact of each donor's generosity, making them feel valued and recognized.
In addition to personalized thank-you letters, regular newsletters serve as a valuable tool for keeping donors informed about the campaign's achievements and future plans. These newsletters can highlight the tangible outcomes made possible by donors' contributions, reinforcing the value of their support. Sharing impact reports further enhances this effect, providing concrete evidence of how donors' contributions have made a difference in the lives of those benefiting from the cause. By demonstrating the direct impact of their support, fundraisers can reinforce the donors' connection to the organization and inspire them to continue their involvement.
To foster ongoing engagement, fundraisers can provide exclusive updates or behind-the-scenes content to donors. This approach makes donors feel like valued members of the organization's community, keeping them engaged and invested in the cause. Hosting special events exclusively for supporters offers a unique opportunity to deepen their connection to the cause. These events can provide a platform for members to interact with the organization's team and beneficiaries directly, strengthening their emotional connection and encouraging ongoing support.
Collecting feedback from donors through surveys is invaluable for understanding their preferences, improving the donor experience, and enhancing future campaigns. These surveys provide an opportunity for donors to share their thoughts and suggestions, ensuring that their voices are heard and their needs are met. By actively seeking and implementing donor feedback, fundraisers can strengthen relationships and create a donor-centric approach to their work.
To Recap
Successful fundraising campaigns require a targeted and personalized approach that resonates with donors. Compelling storytelling, authenticity, and clear goals are key elements in effective communication. When it comes to mail piece design, attention-grabbing visuals, compelling headlines, and clear messaging make a lasting impact. Omni-channel direct mail campaigns, incorporating digital components and data integration, enhance donor engagement. Follow-up strategies, including gratitude, regular newsletters, exclusive updates, events, and donor feedback, strengthen relationships and foster ongoing engagement. By embracing these strategies, fundraisers can drive meaningful impact and cultivate lasting connections with their supporters.
Want to level up your direct mail? Contact us.