Postalgia Goes to the National Postal Forum!
By: EmMa Matern
June 12, 2023
INTRODUCTION
The National Postal Forum (NPF) is a premier event that brings together professionals from the postal and shipping industry, and this year, we were thrilled to be first-time attendees and exhibitors. We aimed to make a lasting impression with our booth showcasing our innovative handwriting robots. In this blog post, we will take you through our experience at the NPF 2023 and the valuable lessons we learned as pioneers in the personalized direct mail industry.

OUR BOOTH
As first-time exhibitors, our creative marketing team took great care in designing our booth to make a memorable impression. Our booth's centrepiece was one of our handwriting robots, perfectly showcasing the essence of our business – infusing a personal touch into direct mail campaigns. Attendees were captivated by the sight of the robot meticulously replicating the art of handwritten mail. The robot's precision, speed, and flawless execution of penmanship demonstrated the potential for scaling the personalization of direct mail campaigns to new heights. Visitors were not only impressed by the efficiency of the technology but also by the human-like quality of the handwritten letters.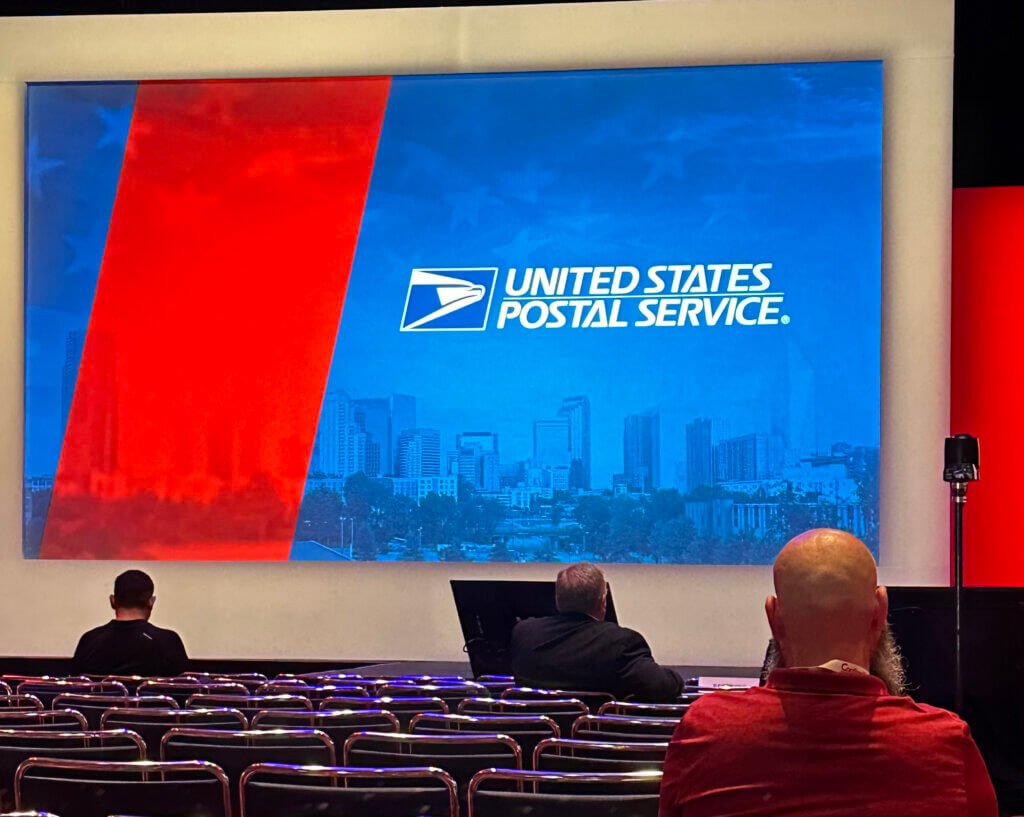 WORKSHOPS/TALKS 
We eagerly attended the various workshops and talks offered at the NPF 2023. While we were passionate about showcasing our handwriting robots, we recognized the importance of staying up-to-date with industry trends and expanding our knowledge base. We actively participated in workshops and talks centered around direct mail marketing, customer engagement, and emerging technologies. These sessions allowed us to learn from experts, gain insights into market demands, and explore strategies to enhance our personalized direct mail solutions.
BUILDING CONNECTIONS 
The NPF provided us with an incredible platform to connect with like-minded professionals, potential clients, and partners. As pioneers in the personalized direct mail industry, we were excited to share our expertise and build valuable relationships. Our booth and team members drew a steady stream of visitors eager to learn about our services. These interactions allowed us to engage in meaningful conversations, showcase the power of personalized direct mail, and demonstrate how our handwriting robots could transform marketing campaigns. The connections we forged during the event have the potential to foster collaborations and drive the industry forward.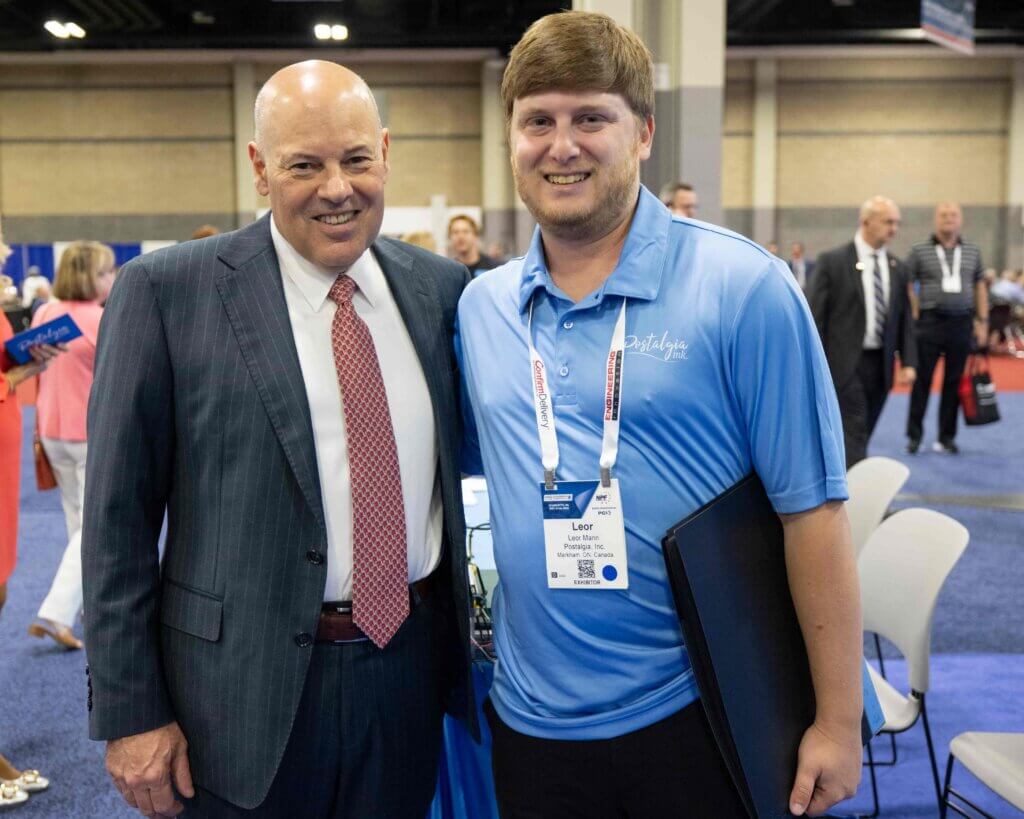 Our COO Leor Mann meeting the Postmaster General – Louis Dejoy
Leor got paid a visit by the Postmaster General, Louis DeJoy! Leor had a conversation about what we do at Postalgia and provided an explanation about our handwriting technology and how our machines work.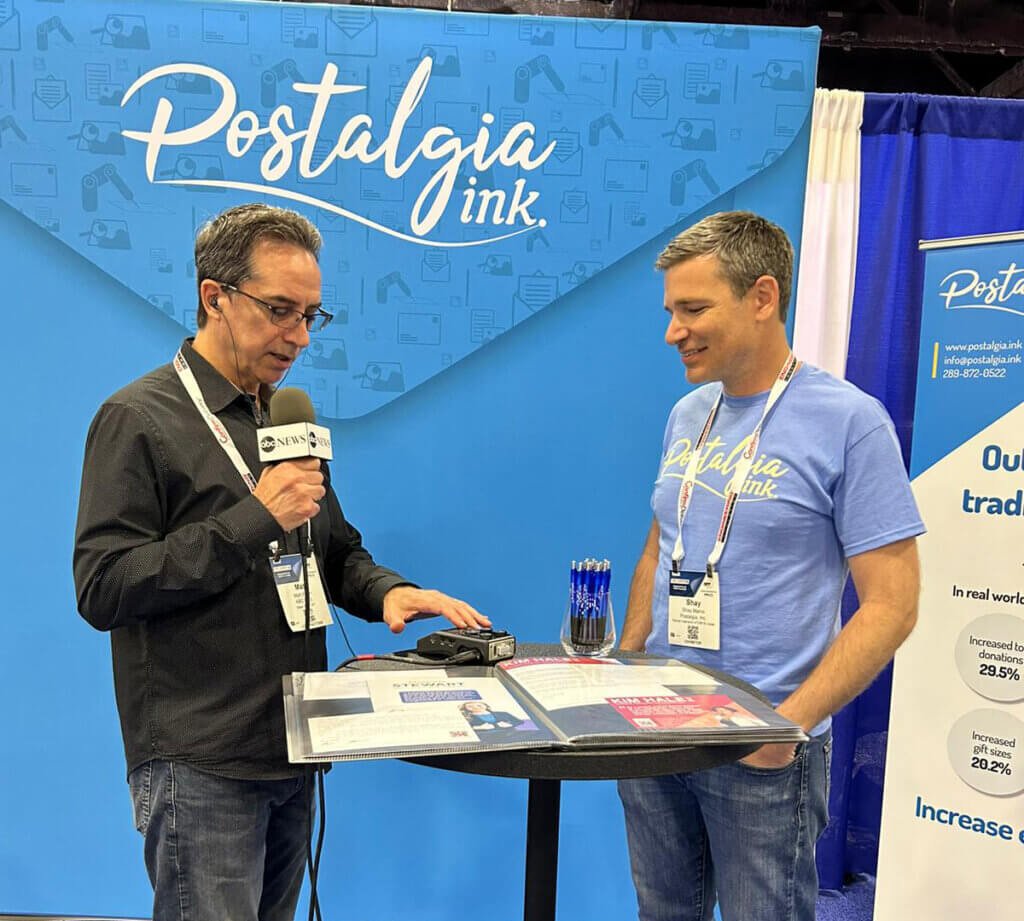 Our CSO Shay Mamo being interviewed by Matt Wolfe from ABC Radio
Shay had the opportunity to speak to Matt Wolfe in a radio interview for ABC Radio about the remarkable impact of handwritten letters in today's digital age. Shay emphasized that amidst the overwhelming stream of digital messages and ads, a handwritten letter stands out as a beautifully personalized and attention-grabbing communication medium. The interview highlights how Postalgia provides this game changing service of handwritten letters to cut through the noise and leave a lasting impression on recipients.
WHAT WE LEARNED
The National Postal Forum provided valuable insights into the future of direct mail marketing, highlighting its continued significance despite the digital age. The event showcased innovative strategies and technologies reshaping the industry, such as interactive mailpieces and omni-channel mail campaigns. It also emphasized the rise of a new generation of marketers, bringing fresh perspectives and expertise in digital integration for personalized campaigns. Our booth grabbed the attention of many attendees because the service we provide was seen as unique and valuable, as it adds an extra touch of authenticity to any mailpiece. The forums emphasized the pivotal role of data collection and analysis in creating targeted and personalized direct mail experiences, enabling marketers to refine strategies and optimize campaign performance. Overall, the National Postal Forum shed light on the exciting future of direct mail marketing, demonstrating its ability to engage customers and drive remarkable outcomes.
CONCLUSION
The National Postal Forum 2023 served as an exceptional platform for us to showcase our personalized direct mail solutions with handwriting robots. Our booth garnered a steady stream of visitors, allowing us to demonstrate the influential role of personalized communication in direct mail campaigns. We took advantage of the workshops and talks offered, enriching our knowledge and keeping abreast of industry trends, which in turn helped us refine our strategies. Furthermore, establishing connections with industry peers, potential clients, and partners solidified our position as leaders in the field of personalized direct mail marketing.
The event provided us with an ideal opportunity to engage with a diverse range of professionals, exchange ideas, and learn from experts in the field. The interactions and insights gained at the National Postal Forum will undoubtedly shape our future endeavours as we continue to innovate and push the boundaries as a hand written letter service provider. Overall, our experience at the forum reinforced our commitment to delivering exceptional personalized direct mail campaigns and further cemented our reputation as industry leaders.
Want to level up your direct mail? Contact us.