Prevent Lapsed Donors
By: EmMa Matern
March 3, 2023
Article Highlights:
Pay attention to you donor retention
Invest in stewardship
Implement a donor segmentation system
Focus on your Annual Fund Strategy
INTRODUCTION
Those who work in the nonprofit sector know that donor retention is an ongoing obstacle. As retention rates continue to plummet, lapsed donor prevention efforts are a top priority.
Referencing the 2022 Quarterly Fundraising Report, "Retention is expected to decrease by -3.1% year-over-year, following last year's -7.4% decrease…Year-to-date retention of donors from last year stands at 29.9% in Q3" (givingtuesday.org, pg. 11).

DONOR RETENTION
To calculate your donor retention, use the formula below! Donor retention is tough, but the good news is that it is easier to maintain repeat donors than it is to find new donors. With attention to the details and hard-work, you will be able to have your donors keep coming back. According to NeonOne.com, if you can improve your donor retention by 10%, you can reach up to a 200% increase in projected incoming donations.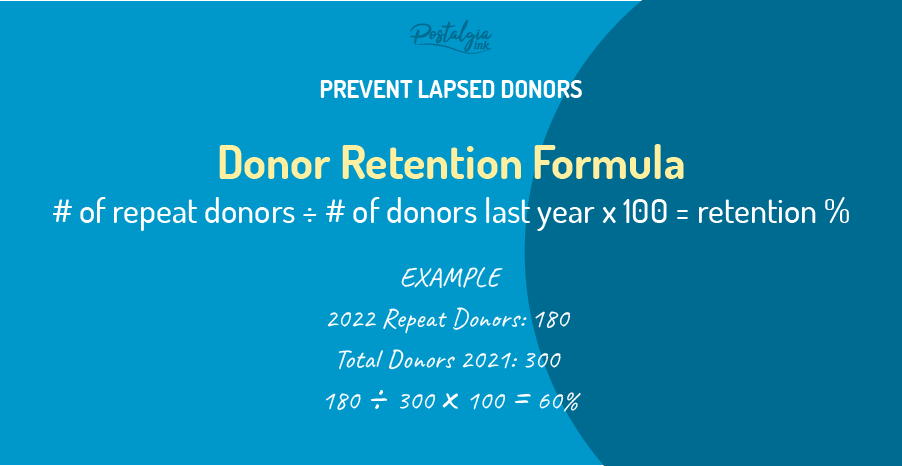 INVEST IN STEWARDSHIP
Investing in something requires allocating funds and also devoting your time and effort. In the nonprofit sector, stewardship is everything. It is key to building strong relationships and making donors feel important and seen. You can do this by showing them how their involvement in your community impacts the people and cause. Be upfront by showing them your successes and your struggles. Hone in on your mission with sincerity and authenticity by taking personal approaches to communication efforts, such as sending send handwritten letters.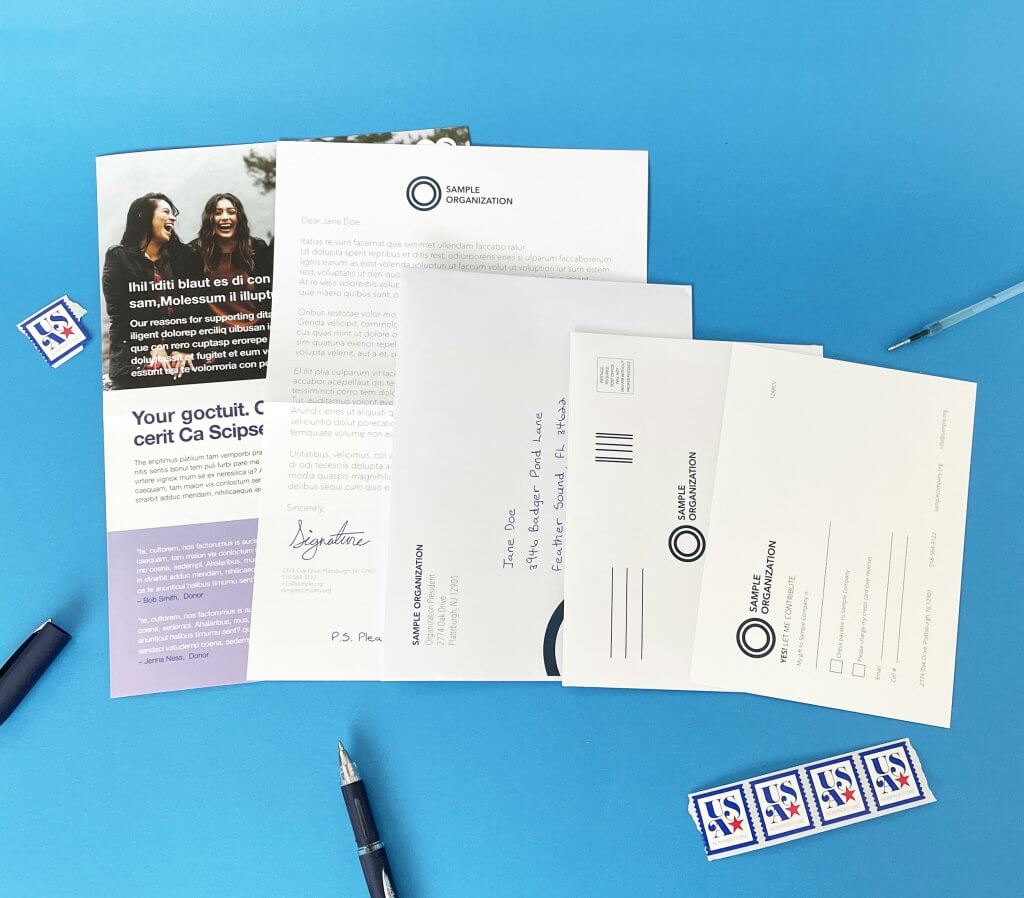 DONOR SEGMENTATION
We talk about this a lot. We highly encourage an in-depth donor segmentation system. Donor segmentation organizes your donors into groups based on their information, which builds your portfolio of donor data. You can use donor data to plan meaningful experiences and authentic communication between you and donors. By getting to know your donors, you can be strategic with your interactions by providing ways to participate in your community that are relevant to them.
It is a give and take as you build relationships. The more you invest in stewardship, the more information you will collect to better understand your constituents' motivations and interests with your organization. So as your donor data grows, keep it organized in a solid CRM (constituent relationship manager).
YOUR ANNUAL FUND STRATEGY
An annual fund strategy speaks to all the money that a nonprofit organization raises throughout the year. This fund is the foundation that allows your organization to maintain day to day operations, while running special programs. The annual fund strategy is top priority! Here are your best annual fund strategy practices.
Put your team together
Coordinate a dedicated group that's soul purpose is to organize and implement a plan throughout the year. This is an ongoing process. It is good to build a team that has at least 2-3 people, so that all jobs do not fall on one person. The various responsibilities on the team are: prospect research, fundraising events, community member outreach, and direct asks coordinator.
Conduct prospect research
Prospect research identifies donors that have the capacity and financial resources to make major gifts. With that information, you can make the decision to focus more stewardship on these donors. Prospect research can also reveal and predict who and how much they will give. Research should be a big step in your strategy.
Here's what to look for in your research:

A donor's previous giving history with your nonprofit and other organizations

The donor's personal background (values, interests, hobbies, etc.)

Wealth indicators (amount given in previous donations, real estate, stock ownership, etc.)

If donor is frequently philanthropically-motivated in other ways (if they frequently volunteer with nonprofits or have served on a board of directors)
Invest in fundraising software
You will need a robust system of tools to collect your research. It is important to build an online platform that is curated for community members to donate to, which ties into ensuring that your mobile giving interface is optimized. Social media upkeep is a big job and requires a lot of time and effort, but done well can be very useful in staying connected to your community. Consider investing in an email and text-to-donate program.
Build a schedule
It is important to stay organized and plan out a schedule of staff and resources for every campaign. If you know exactly what you need, you will have an easier time initiating a campaign instead of pulling things together at the last minute.

Important schedule items:
Campaign start and end dates
Fundraising event dates
Important administrative dates, such as tax deadlines
When each phase of your marketing strategy begins and ends
Plan to show your gratitude to donors, employees, and volunteers
Saying thank you is highly recommended for successful stewardship practices. It shows that you value those who volunteered and donated to your cause. It is also a great opportunity to add authenticity and personality to your communication efforts. This is the way to build relationships. It is as easy as sending a message via phone, email, or a personal handwritten note.
KEY TAKEAWAYS
The bottom line for preventing lapsed donors is maintaining or raising your donor retention. We covered important areas for you to consider focusing on to make that happen:
Pay attention to you donor retention
Invest in stewardship
Implement a donor segmentation system
Focus on your Annual Fund Strategy
Want to level up your direct mail? Contact us.